Web Drawing Manager: Bridge distances, share data and work on-line.

Design projects usually involve more than one person. Whether it is other designers, oversight departments, consultants, management or customers, designs require input and review from others.

Web Drawing Manager, supporting e-design operation, makes it possible for team members to easily contribute from wherever they are, maintains the integrity of the current design documents and organizes design projects to assure that all participants are involved at the proper time.



Sign up now!

Create a Web Drawing Manager account
and deliver drawings in minutes.
Post drawings up to 4 GB each.





The Basics:

Sharing the current design with all team members is the primary element of e-design. A common practice used to inform all team members and decision makers has been to distribute or route manila folders with requirements and design documents. Today using the Internet, Web Drawing Manager securely shares drawings, files and pictures to team members in locations around the world in electronic folders.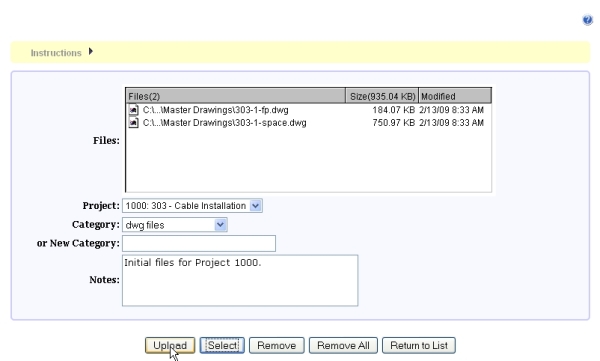 Current documents are easily uploaded and available for any team member to review at any time. Distribution using email isn't necessary and doesnt clog in-boxes with long downloads of drawings, which can be many megabytes in size. When a new version is uploaded, previous versions of all files are automatically saved for reference as needed. Team members are therefore presented with the latest version and can easily download it at a time convenient to them.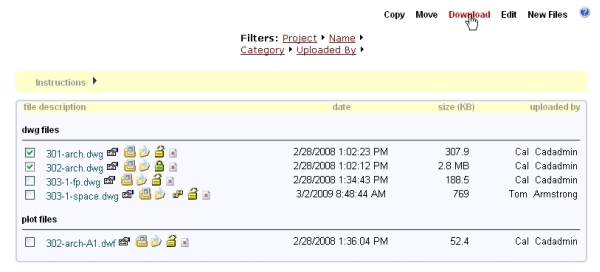 Users can edit the current version, which locks the file until they upload changes and release the lock. This helps maintain control and integrity of each drawing or document.
CAD administrators or project managers set permissions for each group of users to control folder access and the ability to change the design. For example, customers can be authorized to view the final design, pricing can edit the costs and prices and designers can edit the working drawings. Yet each of those folders is not necessarily made available to the other groups.
It is critical that the continuous flow of new users can step right in and use the e-design tools without training. Web Drawing Manager was designed for users to intuitively understand and easily take action to accomplish the task they intend. General instructions on each page prompt users, while detailed context-sensitive instructions can be opened if needed. Web Drawing Manager is used today by principals, executives, customers and designers alike to post documents and designs and to deliver the final design or proposal.
The substance of Web Drawing Manager is transparent to the user, who sees a simple, clean interface to obtain and update file documents. Under-the-covers control maintains an audit trail of every file and drawing and manages the content available to each user.
Sign up now!
Create a Web Drawing Manager account
and deliver drawings in minutes.
Post drawings up to 4 GB each.


Adding Project Tracking Controls:
Optionally Web Drawing Manager can be used to achieve standardization and organization of projects. Task and approval templates are built from the knowledge of experienced designers and the requirements of management and regulatory agencies. These templates reflect current objectives and approaches and can be changed at any time to reflect new thinking. The definition can be very strict or allow flexibility on an activity-by-activity basis. Some tasks or approvals cannot be moved or deleted from the plan, while others are reminders or place holders that can be expanded, omitted or moved, as the project dictates.
Assignments and approvals are released, and email alerts are sent to notify assignees and approvers, when and only when prior required items have first been completed and approved. This is called Smart Release technology. The power of e-design maintains control of the design and assures that input from all team members is obtained at the proper time, thereby reducing the need for face-to-face meetings. Status is communicated and assignments are made in real time.
As each project is started, team members are assigned and their function defined. With Web Drawing Manager this simple and common act undertaken for any project does two things automatically. It gives team members access to the files, schedules and other project-related folders, and it assigns to them the specific tasks and approvals defined in the project template required for their area of responsibility.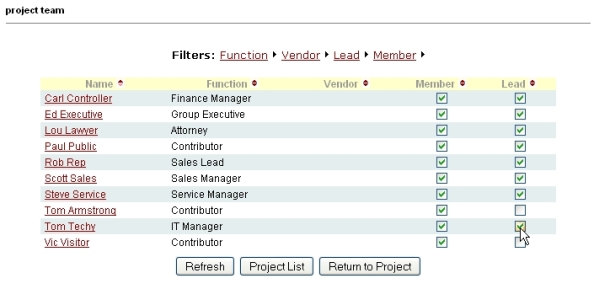 In addition to sharing project drawings, Web Drawing Manager can serve as a Master Drawing repository. This folder or set of folders is restricted for change to specific users with the responsibility of maintaining the drawing integrity. By having one master drawing area that is accessible to users and contributors from many locations, the uncertainty of knowing if you are using the most current version is removed, not to mention the reduction in time spent searching for and confirming currency of needed drawings. In addition, the latest version isn't on someone elses hard drive or on a consultants server, when it is needed.
Sign up now!
Create a Web Drawing Manager account
and deliver drawings in minutes.
Post drawings up to 4 GB each.


What are the advantages and drawbacks of Web Drawing Manager over face-to-face meetings?

Advantages.

E-design using Web Drawing Manager is a real time operation. New ideas are available to the entire team the moment another user posts their update. This means problems can be addressed earlier. Users have complete flexibility to work in the office, on the road or from home. Users frequently post updates at 11 pm at night, 6 am in the morning and on Saturdays. This keeps the design continuously progressing with up-to-the-minute drawings available. Access to new drawings does not have to wait for formal distribution or face-to-face meetings.

In addition, previous versions of every file are saved so users can look back to understand the new approach or to take issue with a change. The complete availability of all design documents, including prior versions, supports informal one-on-one discussions, which allows earlier resolution of issues. It also assists in the preparation for upcoming face-to-face meetings and promotes checkpoint routing for approvals to replace or complement face-to-face meetings.

E-design minimizes the number of face-to-face meetings required and thereby increases the importance of each one. For example, instead of having a weekly meeting to discuss how everyone is coming, scheduled meetings at critical points influence better preparation and attendance. The time saved can be spent more productively, while still addressing issues and maintaining communications among team members in the interim. The on-line project schedule reflects in real time the overall project status and presents a single sheet 4-Up status summary.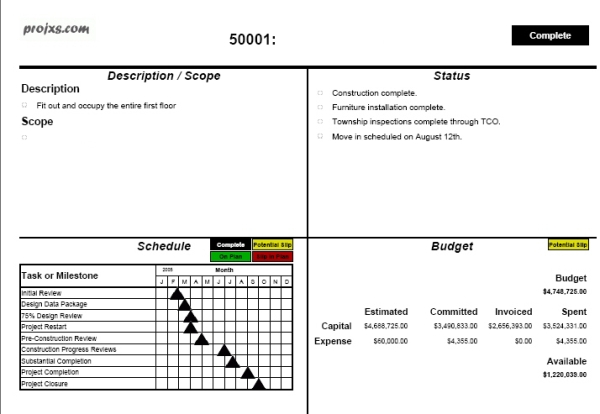 E-design reduces the need for and improves the quality of the face-to-face meetings that take place.

Drawbacks.

The only drawback of e-design is avoidance of needed face-to-face meetings. When issues must be resolved but remain unaddressed, where the team is not in agreement with the design objectives or when similar situations exist, face-to-face meetings should be held.

Face-to-face meetings and e-design are complementary. Continuous availability of up-to-date designs and documents allow designers to start their contribution at the earliest possible moment and give participants timely and accurate information to prepare for the meetings.


Sign up now!
Create a Web Drawing Manager account
and deliver drawings in minutes.
Post drawings up to 4 GB each.


Face-to-face meetings cost more and take more time - but what advantages, if any, do they deliver that Web Drawing Manager cannot match?
Depending on the project size and complexity, the number of face-to-face meetings can be increased or decreased from standard practices. Garnering inspection from all team members on a timely basis remains critical to project success and to minimizing the redesign. This is particularly true for team members who provide oversight and validation, but are not directly doing design and who may not review designs on a timely basis. Eleventh hour revelations from the Safety department or concerns about maintenance of the new design, for example, are costly in time and money, if the result is a rework of the design.

The key thing is that the face-to-face reviews and meetings set the stage for e-design to proceed smoothly and in turn e-design makes the design reviews more effective. Team members work in their own environment, while their designs are immediately shared with others for consolidation into a complete design. Designers can work in parallel to shorten overall project time lines, while easily sharing their CAD layers with others as they evolve. Issues can be seen and discussed individually between reviews but with the overall direction of the previous review as a guideline.

In short, face-to-face meetings, conference calls or routing for approvals work synergistically with e-design processes to promote well-run projects and better designs.
Sign up now!
Create a Web Drawing Manager account
and deliver drawings in minutes.
Post drawings up to 4 GB each.